Combining the SBK-spec electronics package of the 2011 Aprilia RSV4 Factory APRC SE with the suspension and other components from the cheaper Aprilia RSV4 R, this 2011 Aprilia Tuono V4R has two things neither of its fully-faired siblings do: its wheels are 2kg lighter than those on the RSV4 R and it now develops its maximum torque of 81lb/ft 1,000rpm lower, now at 9,000rpm. Of course it also ditches the fairing, gains a larger pillion seat and a set of flat handlebars. Can you say "wheelie?"
Update: Aprilia says the Tuono will arrive in US dealers "at the end of 2011."
Actually, equipped with Aprilia Performance Ride Control, wheelies should only occur when you want them to. Three-position wheelie control is part of the standard package that also includes programmable launch control, quick shift and a traction control system that employs two gyroscopic sensors, accelerometers and wheel speed sensors to speed you up and allow for wheel spin while exiting corners as opposed to slowing you down like other, less sophisticated, systems on the market. It uses eight modes, controlled through the Mana's + and – shift buttons on the left handlebar, present so you can switch TC settings between each corner on a race track if you want to. Of course, Aprilia Traction Control is also intelligent, able to teach itself the best settings for the size, profile and compound of a new set of tires.
You can read more about APRC in this article and a review of the system as fitted to the Aprilia RSV4 Factory APRC SE here. After testing the system at Valencia, Kevin Ash said APRC, "makes you look like a god yet remain a mortal."
Like we told you yesterday, the Tuono V4 drops maximum power from 180bhp on the RSV4 to 162bhp here while torque falls 4lb/ft, yet is delivered 1,000rpm lower. The Tuono weighs in identically to the RSV4 Factory at 179kg (dry). The Tuono's brake discs remain at 320mm in diameter, however the radial Brembo brake calipers are no longer monoblocks. The Tuono's unique 43mm USD Showa forks and remote-reservoir nitrogen Showa shock are both fully adjustable.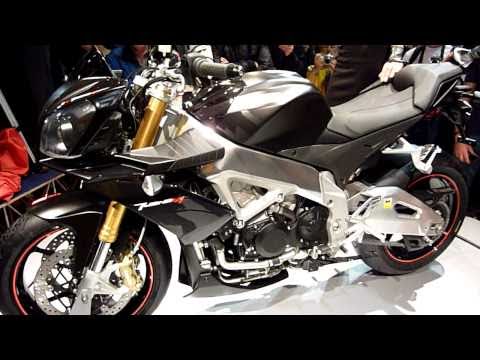 Here's a nice 360-degree video from Niewsmotor.nl.
Seeing these pictures in high-res and from different angles, the Tuono's new look has grown on us since we first saw it yesterday. It's aggressive and purposeful while items like the seat unit have been successfully adapted to practicality while retaining a character unique to the RSV4. check out the bikini fairing in side profile and not the way the support for the unit runs through the outside perimeter while you can see clear air through the portions inside that line; a neat trick that lesson's the unit's visual bulk. The ram-air ducts appear to double as fairing supports and feature some nicely fussy ridges while the side fairings or radiator shrouds are pleasantly simple. The new exhaust, again from the RSV4 Factory APRC is also slimmer and lighter.
-