The idea with multi-wheeled scooters like these is to make the transition from four wheels to two easer for car drivers. The extra wheel or two doesn't just provide a psychological advantage, but also helps with low speed balance, stability under braking and while traversing obstacles like tram tracks and potholes. Now, the man responsible for the Piaggio MP3 has one-upped that design not just with a fourth wheel, but with a more advanced suspension mechanism too. This Quadro 4D is scheduled to go on sale next Spring and won't even require a bike license.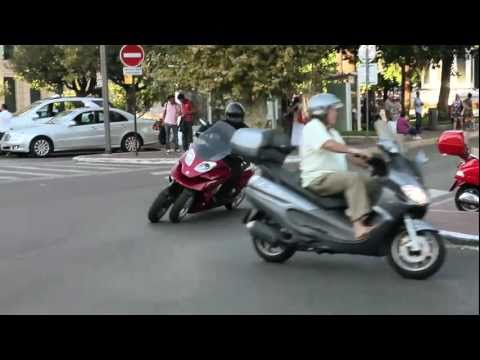 The Piaggio MP3 uses a mechanical solution for front wheel articulation and suspension. It's effective and surprisingly simple, but locates the majority of the bulky components very high, raising the center of gravity and leading to…interesting looks. You can see the MP3's front suspension in the photo below.
The USP of Quadro Technologie is hydraulic suspension and articulation that, as you can see in the photo below, is located between the wheels, not above them. This means that the Quadro 3D — as the name suggests, the three-wheeled version of this concept — has a center of gravity that's 40 percent lower than that of the MP3. It should also allow more steering lock, leading to a decreased turning radius and could also facilitate a slightly greater maximum angle of lean.
The family behind Quadro Technologie is Luciano Marabese and his two sons Ricardo and Roberto. As Marabese Design they were responsible for bikes ranging from the Gilera CX125 to the Moto Guzzi Griso to the Triumph Speed Triple. Quadro is allowing them to realize a level of innovation not currently possible at traditional motorcycle companies.
Thanks to the reduced size of the suspension mechanism, the Quadro 4D is able to adapt a two-wheeled rear with drive delivered through a center differential. This allows it to achieve an even greater psychological air of safety and should make traversing obstacles, dealing with inclement weather and reacting to an emergency far easier for novice riders. As you can see, it can mount a curb at an angle without upsetting the vehicle's stability, something that's challenging on two wheels even for the most experienced riders. Extrapolate that capability to everyday challenges like panic braking in a corner or riding through a deep pothole and you can see why such a vehicle could make so much sense for urban riding.
The 4D will be powered by a 500cc engine with around 40bhp, making it capable of speeds in excess of 90mph. To make it licensable under European trike regulations (thereby allowing people with car licenses to operate one), the rear track is slightly wider than the front, but it should still be more than capable of filtering through traffic. Two extra wheels obviously do bring a weight penalty, the 4D weighs 240kg/530lbs. Still, that's slightly lower than the weight of a Piaggio MP3 500, which has only three wheels.
We rode that Piaggio MP3 500 over a several month period last year and found its three-wheeled configuration to be limiting only at extreme cornering speeds out of town. That's not to say it wasn't capable on mountain roads, more that you had to plan your corner lines as the maximum lean angle is only around 40 degrees. Elsewhere, the extra front wheel made the scooter very confidence inspiring while braking thanks to the doubled grip and made city riding an absolute cinch. Riding one is sort of like riding a scooter that's free from the usual physical limitations; you can panic brake while leaned over and run over obstacles with abandon.
Quadro plans to bring both the 3D and 4D to market next spring and also plans an as yet unseen off-road version.