One of the neat things about land speed record racing at Bonneville is that you don't have to adhere to an existing formula or class. If you've got a new technology, just apply for acceptance to race it, then turn up and go fast. That's what the Saline Airstream will do this summer when it will go for a targeted top speed of 125mph. How will it get there? Compressed air.
Pneumatic engines using compressed air as their power source aren't new. If you've used an impact wrench or other pneumatic workshop tool, then you've used a compressed air engine. The technology enjoys particular interest in France, where Victor Tatin conceived an airplane powered by it all the way back in 1879. That's where Les Triplettes des Bonneville, the team that will run the Airstream and the makers of its engine come from.
The company making the engine is MDI, which is pushing the technology in low-speed, urban vehicles. Like electricity, compressed air is zero emissions (well, technically it's emitting air…), but unlike electricity, fill ups don't take hours. You can fill a compressed air tank from a compressor or storage unit in the same time it takes to fill up with gasoline. The downside is that power output and therefore performance are so far somewhat limited, something Les Triplettes are trying to address.
The function of a pneumatic piston engine of the kind employed here is incredibly simple. Air is stored in the Airstream's three tanks at 3,626psi and fed into the engine at 363psi, where it expands, pushing the piston down. That pistons's return path exhausts the air through a valve, just like in your gasoline-powered motorcycle.
Les Triplettes have some experience setting land speed records on bonkers machines. On their first visit they packed a 50cc sidecar into their luggage, then set a new, 60mph record on it. The following year they raced a three-wheeled Reliant Robin built by my good friend Andy Saunders.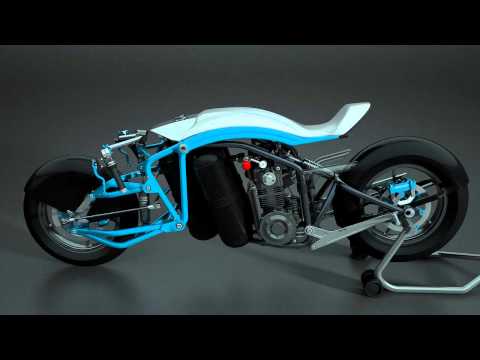 Making the Airstream unique beyond just the power source is a reconfigurable chassis that's low and long for record racing and a bit shorter and steeper for road riding. The bike was actually designed by students at France's ISD Valenciennes and should help demonstrate the viability of compressed air as an energy source for exciting road vehicles.
Les Triplettes are hard at work assembling the Airstream as we speak. Team member Jean Caillou will race it at Bonneville Speedweek, August 13-19.